High School HeroesX Introduction
Hello,
My name is Eli Wachs, and I founded High School HeroesX in 2013 with the belief that youth can effect meaningful change on the world both today and tomorrow. As XPRIZE founder Peter Diamandis writes in his book Abudance, it is no coincidence that young people were behind getting spacecraft's to the moon in the 60's and behind the dot.com boom.
While I followed with amazement contests that XPRIZE developed and executed, as a high school student, I thought it would be great to be able to get classmates and others in the community to participate in a competition that could benefit our community, and we could see the difference we make. What if we took the competitive multiplier effect inherent to XPRIZE, but applied it to doing good locally?
That's exactly what High School HeroesX has been designed to do.
In late October 2014, I hosted a challenge development session for the seven participating Philadelphia schools. After hearing from Dr. James Thompson, a Wharton professor on social entrepreneurship, the students broke out into small groups to deliberate the challenge they believed should be selected. The result was a challenge designed around working with economically disadvantaged schools in the Philadelphia- area to increase high school graduation rates. The winning teams for this challenge a year later received over 1500 dollars in grant money to increase the scale of their projects, which combined computer literacy, career development, and coding. Since our launch, I have spoken about the organization on NBC and through a piece I wrote for the Huffington Post.
We launched our second challenge in Beijing in April of 2015 on Food Safety, which resulted in a multi-day summit engaging students on how they could best influence politicians to drive positive legislation in the topic area. As Pennsylvania Youth Ambassador for 2015-2016, I was able to partner High School HeroesX with YSA to conduct a $1000 Pennsylvania Environmental Challenge, whose winners worked on everything from installing more efficient lights in schools to calculating better ways to inform people on the dangers of fracking.
2017 saw the most ambitious HSHX challenge come to completion: a year-long, $10,000 competition to make autonomous driving safer. The winning team made a system which helps autonomous driving algorithms self check and improve errors.
Going forward, HSHX will be accepting applications on a rolling basis for any high school student using technology to drive social change. In doing so, we hope to expand our scope from just the cities and countries we had previously hand-picked to lead challenges. Interested students can apply
here
.
We believe that students today have the tools to truly effect meaningful change on their communities no matter where they live in the world, and hope to harness the optimism of youth to create a better tomorrow.
–Eli Wachs
About our First Completed HSHX Challenge: Philadelphia Education
Below Release from 2015
---
For many years the graduation rate for high school students in Philadelphia hovered between 50% and 60%. While the rate has recently started to inch up, more than one third of students still do not graduate.
Some statistics as put into graphic form by our High School HeroesX design team: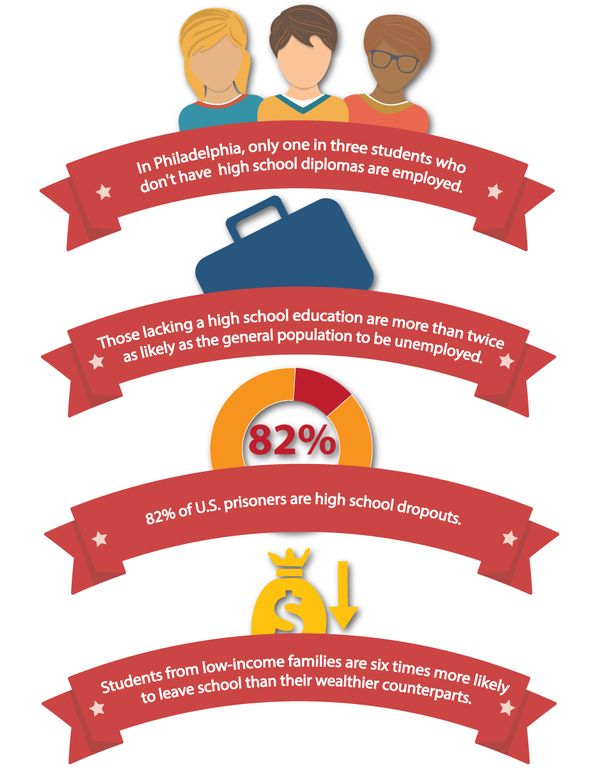 Given these factors, a cycle of underemployment and poverty is being
perpetuated. Graduation from high school makes people more likely to be productive and prosperous members of society.
This issue persists for many reasons, but as high school students, we think and, perhaps with naive optimism believe, that the challenge of increasing high school graduation rates in the Philadelphia area is solvable. Students involved in developing this challenge and competing to solve it are, for the most part, from schools in an economically advantaged region of the Philadelphia suburbs called The Main Line. They would like to help their peers in the region, in the hope that the zip code one comes from will not define their education opportunities and, subsequently, their opportunities to prosper in life.
The team that "wins" this challenge a year from now is the one that will have earned the most points using the criteria below while achieving the stated breakthrough in a way that can be replicated and scaled throughout the city. The following criteria will be judged by a to be announced challenge Board of Directors, which will have a representative from each participating school.
 Increase from a pre-determined baseline in the knowledge of students and parents about the benefits of college and financial aid and funding opportunities available to them (30 points)
Show an increase in knowledge and learning, such that the educational gap between students at the economically disadvantaged schools and economically advantaged schools is diminished (30 points)
 Increased participation in extracurricular activities (30 points)
Quantifiable proof that students are more inclined to stay in school throughout all levels of schooling than they were before the challenge (10 points)